We get a lot of rave reviews for our service from all types of publications, but nothing means more to us than when our Apple peers stand up and take notice of what we are doing.  Macworld is the final say that is anything Apple related so we hope that if you have been waiting on the sidelines to make the switch from Mobile me, or Carbonite, or Dropbox, or Sugar Sync or Live Drive or all of these combined well now the proof is in the review.  We hope to welcome you to the Dolly Drive community soon–and you can see for yourself why we are the number 1 Cloud service in Customer Service and Customer Appreciation and why thousands of customers see the benefits of one cloud to service all their needs such as Sync+Share+Backup+Clone+Archive. We also have plenty more to provide in the weeks ahead so look for some great updates this summer…
Here is our favorite part of the Macworld review. Click on the link to see the entire article.
But the real gold is in Dolly Sync and Dolly Space. In the simplest explanation, Dolly Sync is Dropbox and Dolly Space replaces iDisk. The distinction between the two is fairly clear. Sync is confined to a folder on your Desktop. Anything dropped into the Sync folder remains on your local drive, is copied to Dolly Drive's central servers, and is then replicated to any other computer on which you have Dolly Drive installed and the Sync option enabled. Sync combines local and central storage with replication. Remove something from the Sync folder and it's removed everywhere. This works exactly like a Dropbox (or SugarSync, Google Drive, SkyDrive, or Box) sync folder.
Dolly Space is a Finder-mountable remote volume that requires the separate installation of OSX FUSE, which allows non-standard volume types to be mounted. (No restart is required after installing OSX FUSE.) Space is an Internet-hosted disk volume, and, unlike sync, a local copy of the file is not stored nor cached. You can move (Command-drag) files from local drives to the Space drive, and they are deleted locally and stored remotely. You can open files from the remote drive in applications, and the file is first transferred to your machine in the way that any file on a mounted volume is temporarily copied, and then opened. (iDisk could conflate sync and remote volume if you'd enabled the local caching option, although because it worked so poorly, I'm not sure if it was commonly used.)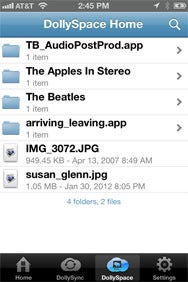 iDolly: A free iOS app allows you to view account details and retrieve files in Dolly Sync and Dolly Space.
Both synchronized and Space-stored files can be accessed through Dolly Drive's Web site when you're logged into your account, as well as through the free iDolly iOS app. In the current release, the amount of storage allocated to Sync in a 50GB account is 6GB and to Space 12GB. However, Cirrus Thinking said users can request those allocations be changed, and plans to allow user-selectable allocations. (Allocations are proportionately larger with larger individual plans, and with per-machine storage allotments in a family plan.)
While Dolly Space can replace iDisk more or less entirely, Dolly Sync has some shortfalls if you use Dropbox et al. for anything but simple synchronization. In the current release, you can't selectively sync, or choose or omit sub-folders in the sync folders for particular machines. There's no option to share folders with other Dolly Drive users, and there's no way to create a publicly shared item. It also lacks an interface for restoring deleted files or finding older versions. If you need any of these features, you need a full-featured sync/storage service.
http://www.macworld.com/article/1166973/dolly_drive_offers_a_variety_of_online_storage_services.html
by